Post by bigwapitijohnny on Mar 25, 2010 19:46:22 GMT -6
All,
I am now able to proceed with my trailer project. I have been 'chomping at the bit' to start and now my wife has given me the green light (following paying off her '04 Sequioa). Mind you, she has always given me a green light to proceed with the various projects that I have had in the past :victory:...I dare not venture into the 'do-it-yourself' realm as some of you have admirably done, rather, my skill set lies in the realm of dentistry, and I realized early on that it's easier for me to deal with millimeters in the mouth rather than inches and square feet in the garage.
Anyway, I had a chance to look at the many offerings here on ExPo, and I want to congratulate and thank all of you for your contributions to this forum. There is a wide variety of trailers here that range from the elegant to utilitarian. Nonetheless, all have their strengths and weaknesses. My needs required a more 'modular' approach to a trailer. I felt that an RV or a dedicated camping trailer would only be a 'one dimensional' solution for my needs and wants. I intend to use this trailer throughout the year depending upon the season. It will be used for the following: 1) going into the woods and haul split logs for the winter. 2) have the ability to drag various big game from the field to my freezer (following processing of course). 3) have the ability to load up my ZTR or future ATV. 4) take the family camping in the great outdoors. 5) serve as a part of the TEOTWAWKI solution and help get my family out of the suburban jungle to the sticks...So, given all of these factors, I have decided to go with a custom built trailer by Outlander trailers. I have been in touch with Robert Shepard for over a year now, and we have bounced around various design ideas. My trailer will be a form of this type of trailer called the Sherpa II. The width will be a little wider since the modern ATVs require about 50" across.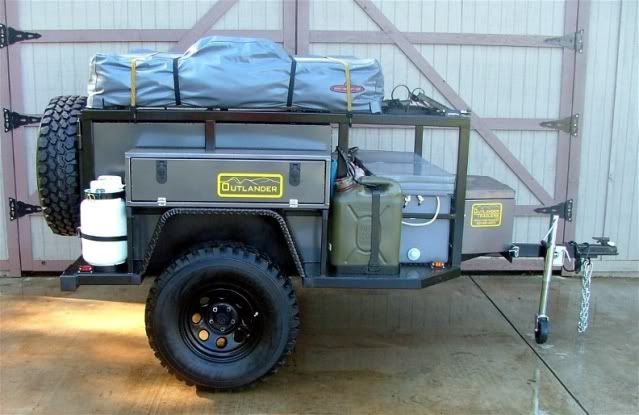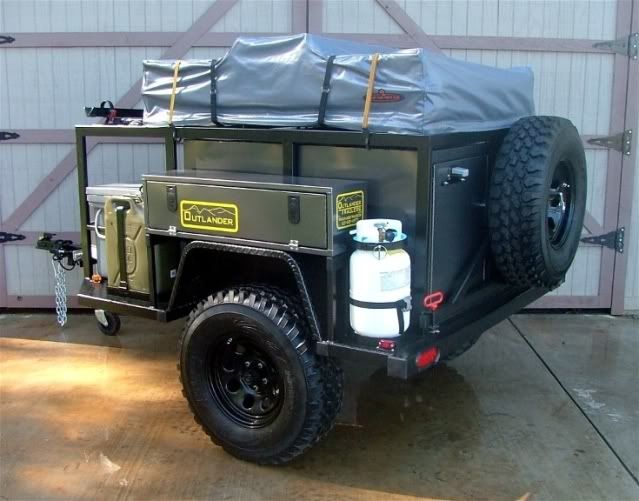 I just returned from Sheridan, Arkansas to see firsthand the Outlander trailer operation. I got a chance to spend about 2.5 hours discussing the trailer options available. Let me say that his knowledge, attention to detail, and insight are all exceptional. It was well worth the trip! :sombrero:
I purchased 3 Bridgestone Dueler A/T Revo in size LT265/75/r16 and mounted them onto my split spoke wheels that I had in the garage. Tire shop had a first generation Revo laying around and let me have it for $100 if I bought two of the second generation ones...turned out to cost $150 per tire...
The issue currently that I am wrestling with is what kind of tent system to purchase. I need to have a changing / privacy room off of the tent for my wife to approve...So, I was wondering if there are any other options available besides the Serengeti...
I have also seen the Eezi-awn Globetrotter system but I think that the room would be too small for this to work. The room 'below' would need to be able to fit a cot as well as a porta potty system.
Please feel free to add any and all insight! Thanks in advance!
Regards,
BWJ