Post by YouandI on Aug 12, 2014 14:08:11 GMT -6
OFF-ROAD CAMPING CLUB OUTDOOR SKILLS VILLAGE
Lake Springfield Park, Springfield, Missouri
September 5-7, 2014
Event:
Bass Pro Outdoor Days Event - ORCC Off Road Camping Display
Location:
Lake Springfield Park, Springfield, Missouri
Date & Time:
Friday - September 5, 2014 (Check in Time for Camping 4:30 pm)
Saturday - September 6, 9:30 am - 4:00 pm (Event)
Sunday - September 7, 11:00 am - 3:30 pm (Event)
The Off-Road Camping Club is dedicated to the pursuit of amateur outdoor activities of all types and skill levels. Visit the ORCC Village where over 35 Plus manufacturers products will be on display, offering everything you would need to be self-efficient, comfortable and connected in the wilderness.
 Southwest Missouri Amateur Radio Club will be setting up a base station on-site and broadcasting throughout the weekend.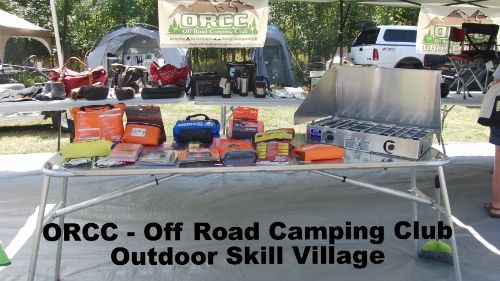 
NEW for this year's 2014 EventORCC GEAR
includes Blackpine, Eezi-Awn, Kamp-Rite, Kodiak Canvas, OZ Tent,
King Canopy, GRUB HUB, Off Road Tentrax Trailer, Lock N' Roll, Engel 12 volt Frig/Freezer units, Katadyn Water Filters, Optimus Back Packing Stoves, Campfire In A Can, Adventure Medical Kits, Clean Waste, Brunton Portable Solar Panels, Hardened Power Systems, Partner Steel, Al Rack Boxes, Optima Batteries, Amana Wool Camp Blankets, Blue Sea Systems, Superwinch, Viair 12v. Air Compressors, Raingler, Trasharoo, Superlift, Garvin Wilderness G2 Rack Systems, Zodi, Wavian Fuel & Water Cans, RotoPax Fuel & Road Safety Kits, Wearwell Shower Floor Systems, Ladder Guy, PolyTuf Tarps, Wilson Electronics, Toshiba, RAM, Pocket-CO 300, Travel Chair, Electro Warmth 12v. Bunk Warmers, AlpineAire Freeze Dry Foods, Manchester Aluminum Propane Tanks, SafeGloWhips, Popup Gizmo's, Super Jiggler, Cherne, National Luna Lighting, CamoSystems, Life Support Survival Gear, VOLT, DRI-Duck Outdoor.

Register for the Free ORCC Tent-N-Gear GiveAway!
Make sure to stop by our display and Register for the "FREE" GEAR N' TENT GiveAway! This year we will have two drawings, one at 3:00 PM Saturday and another drawing at 1:00 PM Sunday.
You don't have to buy anything, just come on by and check out the New Camping Gear and Register for the "FREE" Gear N' Tent GiveAway drawing.
Note:
You will need to be at the display when the winners are announced, to receive your "FREE" gear. If you are not present at time of drawing, we will pull another ticket and give someone else the chance to be a winner!
Note:
Check out the
ORCC GEAR
website to see some of the camping products that will be on display this year!
Demonstrations:
 Alpine Aire Dehydrated Foods & Thermos Coffee Press/Ronnoco Coffee Demo
 Oz Tent Camp Set Up Demo
 Camp Power - Solar Panel/Battery Pack Demo
Register For A "FREE" GEAR N' TENT GiveAway!
Free Camping: September 5-7th, 2014
Begin the week-end with the ultimate outdoor activity
overnight camping at Lake Springfield.
 Bring your own camping gear and food & camp out in your own tent, camper or trailer (sorry, no hookups).
 Restrooms and water are available.
 Individual, family and group campers are welcome.
 Lots of activities and demonstrations available, including a Saturday night campfire.
 Friday and/or Saturday night camping is available – reservations are required.
 Camping available starting at 4:30 PM on Friday through 3 PM on Sunday
 Reservation Deadline: Tuesday, September 2nd.
 Reservation Contact: Springfield-Greene County Park Board Outdoor Initiatives at 417-833-8647 or 417-833-8923.
 If you're not camping, come out for the day (Saturday and Sunday) and participate in a variety of outdoor recreational activities, displays and demonstrations.
Note:
All activities are "FREE" and Open to the public (*unless otherwise noted).
Note:
Concessions will be available including hot dogs, kettle corn, funnel cakes, frozen lemonade, snacks and beverages.
Looking Forward to seeing you this year, it should be a Great Time for All!